The Awards
---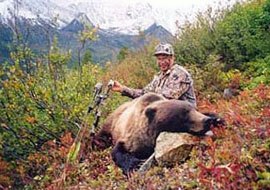 Every two years at the Pope & Young Club convention, four awards are given to individuals and/or groups for outstanding commitment to bowhunting and conservation.

The awards are:
Pope & Young Club Conservation Award
Pope & Young Club Stewardship Award
Lee Gladfelter Memorial Award
Pope & Young Wildlife Law Enforcement Officer Award

Pope & Young Club Conservation Award
Given to recognize achievement by a person or organization in the promotion of the future of bowhunting and hunting, the image of bowhunting and hunting, and the conservation and wise use of our natural resources.

Recipients:
2021 recipient: Nevada Department of Wildlife
2019 recipient: Wisconsin Bowhunters Association
2017 recipient: Jennie Richardson of the Scholastic3-D Archery program
2015 recipient: Explore Bowhunting
2013 recipient: Dan Fleming
2011 recipient: Stan Rauch
2009 recipient: Kelly Semple
2007 recipient: Denny Ballard
2005 recipient: Roy Grimes of the National Archery in Schools Program
2003 recipient: Boone and Crockett Club
2001 recipient: Congressional Sportsmen's Foundation
1999 recipient: National Bowhunter Education Foundation
1997 recipient: Becoming an Outdoors Woman Program
1995 recipient: Wildlife Legislative Fund of America
1993 recipient: AMO's "Save our Heritage"

Program Pope & Young Club Stewardship Award
Given to a bowhunter or bowhunting organization that by their actions has conveyed a positive, good-citizen image to the hunting and non-hunting public.

Recipients:
2021 recipient: United Bowhunters of New Jersey
2019 recipient: Kansas Bowhunters Association
2017 recipient: Christian Hunters Of America
2015 recipient: Utah Bowmen
2013 recipient: Jack Creek Preserve Foundation
2011 recipient: West Virginia Bowhunters Association
2009 recipient: New York Bowhunters Inc
2007 recipient: Ray Howell / Kicking Bear Foundation
2005 recipient: Camp Compass
2003 recipient: Farmers and Hunters Feeding the Hungry
2001 recipient: Rob Evans and Dr. Arnold Leonard of the "Hunt for a Cure" annual A.S. Leonard Cancer Research Fund Drive
1999 recipient: Cheff Center Bowhunters Tournament
1997 recipient: United Bowhunters of Connecticut
1995 recipient: Indiana Bowhunters Association

Lee Gladfelter Memorial Award
The Lee Gladfelter Memorial Award recognizes a wildlife professional who, through their efforts, has made a significant contribution to bowhunting and wildlife conservation.

Recipients:
2021 recipient: Dr. Kevin Monteith University of Wyoming
2019 recipient: Dr. Bronson Strickland, NE Mississippi State University
2017 recipient: Kevin Eulinger, Missouri State Conservation Agent
2015 recipient: Ron Thompson
2013 recipient: Jim Heffelfinger
2011 recipient: Dr. Dwight Guynn
2009 recipient: Kenneth Mayer, Nevada Department of Wildlife
2007 recipient: Frank Rice, Pennsylvania Game Commission
2005 recipient: Gary Alt, Pennsylvania Game Commission
2003 recipient: Dr. David Samuel
2001 recipient: Eric Kurzejeski, Missouri Department of Conservation
1999 recipient: Dr. R. Ben Peyton, Michigan State University
1997 recipient: Robert McDowell, New Jersey Department of Fish & Game
1995 recipient: Jay McAninch, Minnesota Department of Natural Resources

Pope & Young Club Wildlife Law Enforcement Officer Award
This award acknowledges a wildlife law enforcement officer for outstanding work related to wildlife violations regarding the Club's 29 recognized big game species.

Recipients:
2021 recipient: Evan Jones CO Parks & Wildlife Officer
2019 recipient: Andy Barnes MO Conservation Agent